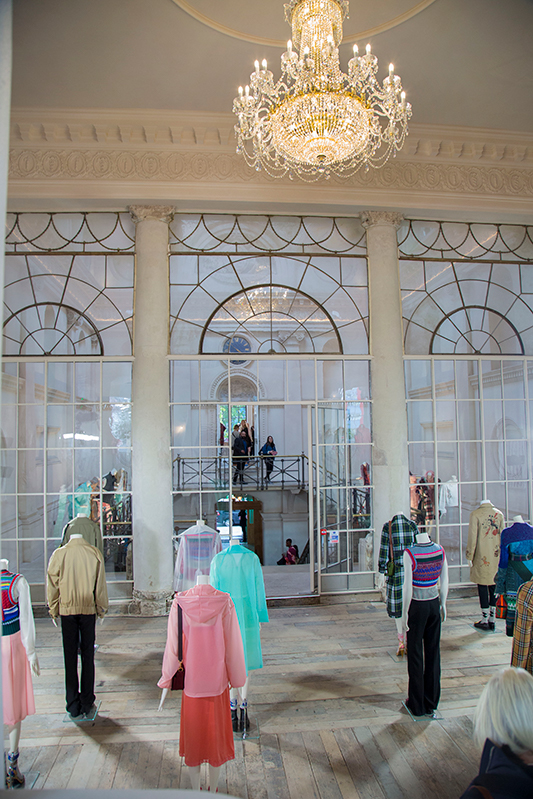 Celebrating the Sept 17 collection, Burberry took over The Old Sessions House in Clerkenwell with a showcase of 'Social Portraiture' British Photography. The exhibition is curated by Burberry's chief creative and chief executive officer Christopher Bailey together with Lucy Kumara Moore, owner of the cult fashion, art and photography Claire de Rouen bookshop in Soho, and a featured photographer Alasdair McLellan.
Upon entering the 18th-century Grade II listed building the grand foyer makes a clear statement introducing its visitors to The Old Sessions House heritage. On the way up the stairs one is lured to the colourful new fall collection exhibited in the main hall, handpicked as if with an eyedropper from all that the British colours and radiance have to offer. A sure way to brighten up the steadily approaching gloomy days.
Yet each room and floor of the building are different, creating portal-like transitions from one setting to another. One of my personal favourites was the peachy room with selection of works titled 'Lovely Day for It" highlighting outdoor episodes in Britain. Memories of the 1996 cartoon adaptation of Roald Dahl's 'James and the Giant Peach' sprung to my mind as I entered the room and it continued to wander exploring the show.
Another curious touch has been the neon light installation in the staircase, fuelling the dreamy maze with a perfect juxtaposition of contemporary and classic, illuminating the journey and adjacent halls.
The show is open till 1st October
More info @Burberry