In the last couple years I would hear more and more people comparing Frieze London and Frieze Masters. This essentially just comes down to taste and personal preference since the only objective difference is that Frieze Masters shows work made before the year 2000. As their website elaborates, "Frieze Masters gives a unique view on the relationship between historical art and contemporary practice." @Frieze.
Nevertheless, as an experiment I've put up a poll using new Instagram feature offering my followers to vote for Frieze Masters or Frieze London (which is by no means a legitimate quantitative measure as many of you who voted, khem, haven't even been to both fairs this year unless of course you've received a personal livestream coverage). After 24 hours the result hasn't really enlightened me on which side won - as image below indicates the result was 50/50... however, I did get a little more insight on my friends and colleagues personal preference #collectingdataonyouguys ;)
As for myself, here are some of my picks from Frieze London this year.
Gavin Brown's Enterprise Booth
After finally picking my favourite it appears that art magazines Artnet & FAD already listed them on top of their list. The curation of the stand both reminiscent and reflective of contemporary culture indeed stood out.
Hernan Bas 'The Flamingo Kid' 2015
Whether it's my overdose on Novels or something else - but this dreamy romantic piece with a gothic touch by Hernan Bas is certainly a work I wouldn't mind taking home.
EVA & ADELE
The artistic duo and married couple from Berlin live their life as a performance. Quoting Eva "Life and Art are one" and they wouldn't take off their makeup even for a dentist appointment. If you're out and about frequently at Art openings you may have crossed paths with them in London, Basel or any other international location. They kindly let me take couple shots of them before strolling on to continue their art performance.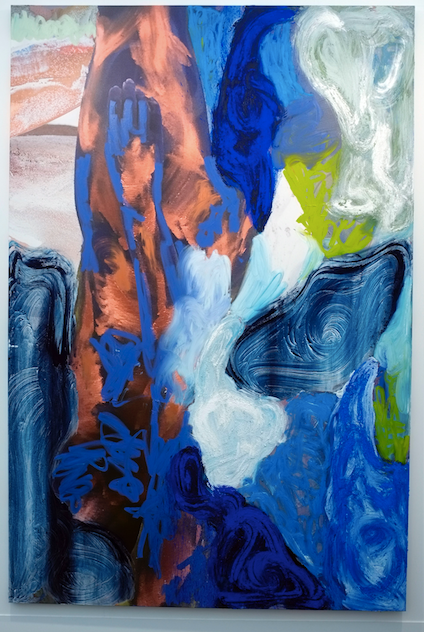 Check out the slideshow for other highlights from the fair or connect with me on Instagram for a daily feed.